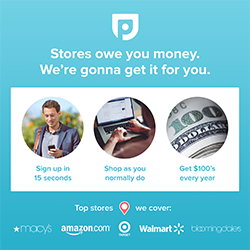 Does it drive you crazy when you buy something online and then you find out that it went on sale for less? What about that sweet coupon or discount code that you didn't get? What if there was actually a better deal and you didn't know about it? Do you find yourself checking back at the same store you bought your item to see whether or not the price has dropped? And if it has, do you say oh well, too much hassle, I'll do better next time. Or do you

go

back to the store, receipt/coupon in hand, ready to throw down if you don't receive the sale price? I love this refund program - Paribus. It eliminates all of that worry and

hassle!
Stores guarantee that you get money back if prices fall. But the catch is you have to ask for it and know when to do so. My life is busy enough without trying to stay up on every price drop the stores I shopped at are doing. That's the beautiful thing. Paribus will do it for me! For free! Watch this fun video to get the picture.
If you're an online shopper this is the best service ever! They are still quite new so they are working with more and more merchants. Here are some stores that they already work with--Target, Amazon.com, Walmart, Staples, Gap, Old Navy, JCrew, NewEgg.com, Zappos, Macy's, Bloomingdales, Nordstrom, Banana Republic, Athleta and Piperlime! Just sign up with your e-mail and let Paribus do the rest. If you shop a lot online, you'll save a lot online! They do retain a 25% commission from money they obtain for you, but you're getting 75% of free money, so it's better than 100% of no money!